Artist: Jonas Nielsen ニールセン ヨーナス
Nachi no Taki Eternity
3 for 2 offer available - Applied on checkout
4 sizes available:
• Small: 21x30cm / 8x12″ (A4)
• Medium: 30x40cm / 12x16″
• Large: 50x70cm / 20x28″ (Recommended)
• X-Large: 70x100cm / 28x40″
Choose from dropdown:
Supported payment methods
How about this impressive view of Nachi Falls (那智滝, Nachi no Taki) located in Wakayama Prefecture, Japan. Photographer/Artist Jonas Nielsen went on a "hitori-tabi" (solitary journey) to explore some of Japans most iconic waterfalls and captured this photograph now available to purchase as a printed poster delivered to your home.
Witness the majestic Nachi Falls, Japan's highest vertical waterfall, as it cascades down amidst a backdrop of natural wonder. Behold the breathtaking scene, where the three-story pagoda of Seiganto-ji Temple stands in serene harmony with the magnificent fall, bathed in sunlight angled over the mountain and the upper brink where the source of life streams from.

Experience a moment of peace, where eternity unfolds before your eyes. This awe-inspiring poster invites you on a visual pilgrimage, where tranquility washes over you, calming the mind and soothing the soul. Let the vibrant hues of orange, yellow, and green transport you to a state of mindfulness, where the therapeutic power of nature reigns supreme.

Transform your space into a sanctuary of zen, as "Nachi no Taki Eternity" captivates your senses and transports you to a realm of eternal serenity. Embark on a visual journey that resonates with the depths of your being and unveils the timeless beauty that awaits within.

Select the size and printing option you like using the dropdown menu and add to shopping cart. Thank you for your support and look forward to enrich your home with a feeling of being in Japan and its fantastic sights.
Free worldwide shipping over €50
Size information
• All prints fits standard frames
• Recommended size is Large: 50x70cm ≈ 20x28″
• White border info available below when scrolling down
Questions to ask:
• How big is your wall/room?
• From what distance are people viewing the poster?
• Do I want a white border printed around the design?
Note! Frame is not included.
Museum quality paper
• Museum-quality poster made on long-lasting matte (uncoated) archival paper.
• Paper-weight: 250 gsm / 110 lb.
• Uncoated finish for a matte look.
• Paper has a slight yellow tint instead of an optical white bleach.
• Shipped in sturdy packaging protecting the poster.
Note! Frame is not included.
Sustainable efforts
• Printed on demand to avoid excess production.
• Local production in +30 markets to reduce transportation distances and carbon emissions.
• Responsibly sourced FSC certified paper from sustainably managed forests.
• Together we will grow forests around the world:
1 print = 1 planet tree 🌳
Your contribution is much appreciated!
Arigatou gozaimasu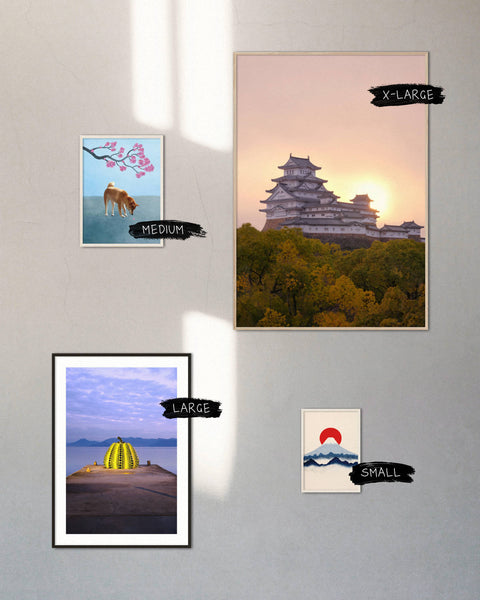 Print Sizes
Small, Medium, Large & X-Large
Choose the size you like and fit it to your favorite frame (not included).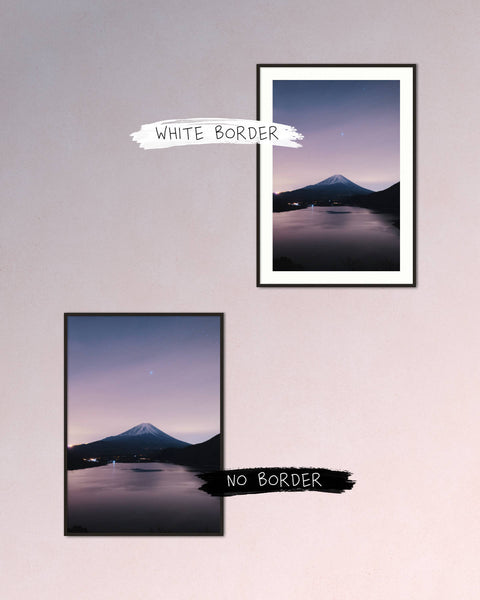 White Border or Full Print?
Select "White Border" in the dropdown list above to get a printed white border around the design.
In some cases this can highlight a design, and is advantageous if you want to use a passepartout/mat with your frame.
White border sizes:
Small: 2.5cm left-right & 3cm top/bottom ≈ 1″ / 1 ⅛″white border
Medium: 3.5cm ≈ 1 ⅜″ white border
Large: 5cm ≈ 2″ white border
X-large: 7cm ≈ 2 ¾″ white border
About artist
Jonas Nielsen ニールセン ヨーナス
Motto Japan
Explore further by viewing our list of artists, cultural events, and collaboration opportunities.